Farmville 2 Deer Shelter is the newest feature will building that will be added in the game this December. On this feature, you will need to accommodate a wandering deer in to your farm by building the Deer Shelter. During this event, there will be tasks that you will need complete. There's also special rewards to be given away. You may expect the Deer Shelter to become available on December 5th.
Place the Deer Shelter in your farm.
Here's a preview of the parts we will need in building the DEER SHELTER.
Collect the following parts by asking them from your friends to build the DEER SHELTER.
Deer Feed Throughs
Cozy Blankets
Water Bowls
After having collected enough parts, you can finally complete the DEER SHELTER.
Here's a look at a completed DEER SHELTER.
Recipes that are associated with the Deer Shelter.
Fawn Treats
Straw Basket
Bouncy Ball
Fuzzy Holiday Wreath
Pair of Warm Mittens
Fringed Photo Frame
Silk Jeweled Necklace
Ruffled Headband
Fur Satchel
Pom Pom Beanie
Fluffy Footstool
Trapper Hat
Soft Stripped Bauble
Furry Laced  Poncho
Wooly Eared Cap
Pair of Fur Sliders
Ask your friends for the following materials during the Deer Shelter event.
Hand Air Pump
Wild Nectar
Zirconia
Brass Clasps
Knitting Bobbins
Crystal Beads
Cozy Quilt
REWARDS:
Eld's Deer
Pampas Deer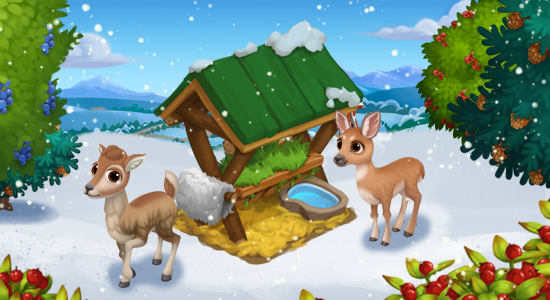 Need help or suggestions?