Farmville 2 Feeding Pond is the newest building for your farm that will be available this August. The goal of the Feeding Pond is to build a place where you can take care and feed a Ferret and a Turtle. Yes, you can win one of these two new animals or  you can win them both. The Feeding Pond is scheduled for released on August 22nd.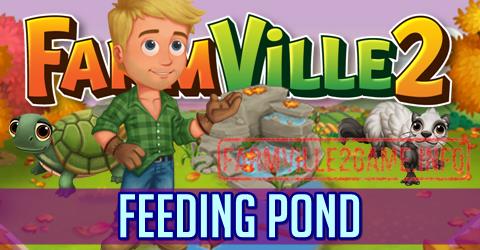 Place the Feeding Pond  in your farm.
Here's a preview of the materials that will be needed in building the Feeding Pond:
Collect the following parts to build the FEEDING POND.
Hibernation Stone
Decorative Cattail
Pond Filter
Here's a look at a completed FEEDING POND.
FEEDING POND RECIPES:
Feeder Post
Ferret Vitamins
Aquatic Nutri Pellets
Floral Napkin Rings
Mosaic Photu Frame
Crimean Iris Vase
Autumn Pudding
Berry Eton Mess
Baked Raisin Stuffed Apples
Raisin Pilaf
Raisin Scones
Raisin Oat Cookies
Hard Bound Photo Album
Gratitude Cards
Party Favor Bag
Crimean Iris Flower Mobile
Embroidered Crimean Iris Journal
Crimean Iris Scented Roll-On
Oilskin Jacket
Liquid Lanolin
Fur Trimmed Moccasins
Fuzzy White Rug
Classic Fur Hat
REWARDS:
Feeding Post
Baby Indian Roofed Turtle
Adult Baby Indian Roofed Turtle
Baby Panda Ferret
Adult Panda Ferret
Here are some of the  images that are associated with the FEEDING POND:
Need help or suggestions?