Cornelius is need of help as he is having a shortage of hay in Farmville 2 Halloween Wheelbarrow. He will ask if we could help him collect Hay Bales. In return, he could give us an exclusive baby Grey Mulranny Irish Goat. There will be several ways to get Hay Bales like helping a friend or even crafting them at your Workshop. Beside the baby Grey Mulranny Irish Goat, there's a also Halloween theme decorations that can be exchange with Hay Bales.
Place the Halloween Wheelbarrow building frame in your farm.
This will trigger a visit from Cornelius and explain how the Halloween Wheelbarrow works.
After Cornelius visits, you will now have the chance to see what items you will need to collect to build the Halloween Wheelbarrow.
Collect the following items to build the Halloween Wheelbarrow
Jack o Lanterns
Wooden Troughs
Wrought Iron Wheels
Once you have enough parts you will finally can complete the Halloween Wheelbarrow. Click the Halloween Wheelbarrow to start collecting Hay.
The goal of the Halloween Barrow is to collect Hay Bales for Cornelius.
There will be three types of Hay Bales:
Hay Bale
Two Hay Bales
Three Hay Bales
You will need these items in crafting these Hay Bales:
Sickle
Rake
Exchange the Hay Bales for these rewards:
Bountiful Harvest Bench
Rickety Pumpkin Fence
Pumpkin Scarecrow
baby Grey Mulranny Irish Goat
Here's a look on an adult Grey Mulranny Irish Goat
Some of the pictures that associated with the Halloween Wheel Barrow: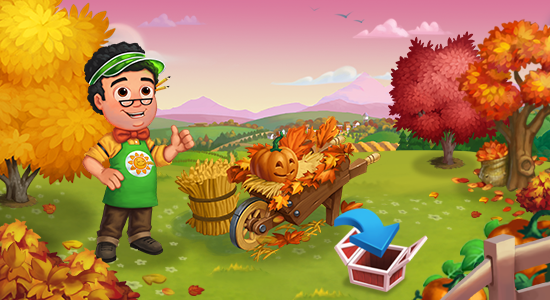 Need help or suggestions?