Farmville 2 Holiday Festival is about to be release this December. Celebrate the Holiday in Farmville 2 with Holiday Tree and Holiday Points feature. Players will receive a Holiday Tree on which they can harvest it for a gift everyday for 12 days. The Holiday Tree will give random gifts which then can be opened for coins and exclusive items. There's also the Holiday Points feature where you collect Holiday Points from Country and harvesting crops and animals. Below are the detailed information of this feature: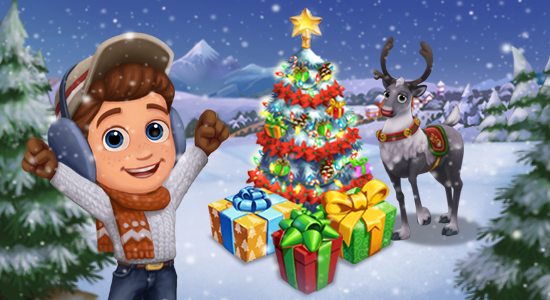 Farmville 2 has just released the Holiday Festival feature where will be collecting points to exchange for gift:
TIP: You can plant holiday crops like "POINSETTIA" to get holiday points.
Celebrate the holidays by earning Holiday Points
Play with friends and share the Holiday Spirit!
Win Presents and fantastic Holiday Rewards!
First Part the Holiday Tree:
Farmville 2 will release a unique deco the Holiday Tree. A total of 12 gifts will be given away by the Holiday Tree.
Once the Holiday Tree is ready for harvest, click on it and gift box will drop from it.
Click the Gift Box to open it and it will give random items and coins!
After harvesting it, there will be a cool down of 18 hrs before you can harvest it again for another gift.
The Holiday Points!
– Holiday Points is the second part of the Holiday Festival.
– Collect and Holiday points from tending Prize Animals and Crops
– Every Country Fair points you earn in game is also equivalent to 1 Holiday Points.
– You can also earn Holiday Points by activating Snow in your farm.

Holiday Points from Country Fair

Holiday Points from prize crops and animals.
Exchange your Holiday Points with this Holiday Gifts:

Small Gifts

Medium Gifts

Large Gifts
Here are some of the items you can get from the Holiday Gifts: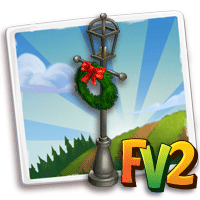 Holiday Lightpost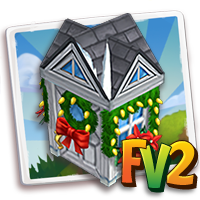 Holiday Shed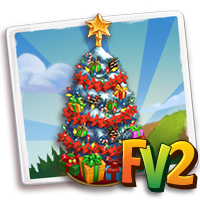 Holiday Tree
Festive Reindeer
Need help or suggestions?