Farmville 2 Little Log Workshop is the newest feature that is schedule for release on Tuesday (Nov 10). You and your friends will be going to complete this new building and start collecting Turkey Drawing. In order to to collect Turkey Drawing, you will need to craft items at the Little Log Workshop. Below is a complete info of these feature:
Help Percy and he will give you in exchange a baby Tudanca Cow.
Preview of the Little Log Workshop.
Built the Little Log Workshop with parts from your friends.
Collect the following parts to start building the Little Log Workshop:
Pin Board
Artist Paper
Wooden Crates
Preview of a completed Little Log Workshop.
Once you have a completed Little Log Workshop, you can now craft items in it to earn a Turkey Drawing: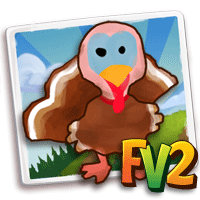 Turkey Drawing
Here's a look of the items that will be given as a REWARD. You can get them by collecting enough Turkey Drawings.:
Lantern Cage
Low Pumpkin Fence
Fall Barrow
Baby Tudanca Cow
Adult Tudanca Cow
Need help or suggestions?