Farmville 2 Pumpkin Hut is an up coming limited time feature which will be released this October. You can craft treats at the Pumpkin Hut and you will have a chance to earn Spook Tales points. Exchange these points with rewards like decorations and an exclusive Boreray Ram. The Pumpkin Hut is scheduled for released on October 17th (Tuesday).
Place the Pumpkin Hut in your farm.
Build a Pumpkin Hut by collecting the parts.
Collect these parts by asking it from your friends. Helping a friends will also give you additional parts.
Vintage Storybook
Orange Paint Can
Spooky Light
Here's a look at a completed Pumpkin Hut.
REWARDS:
Trick or Tweet Birdbath
Frightfully Delightful Archway
Light The Night Fence
Patterned Pumpkin Post
Boreray Ram
MATERIALS FOR THE RECIPES: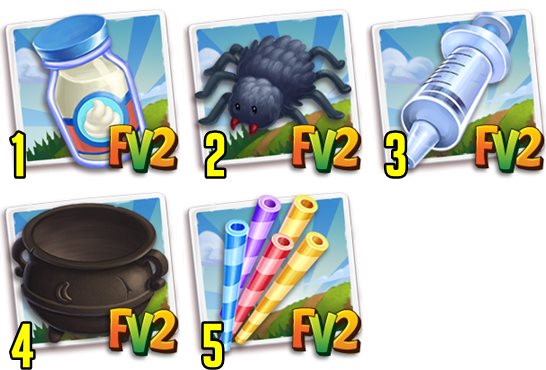 Whipped Cream
Fake Spider
Syringe
Cauldron Container
Striped Straws
WEEK 1 RECIPES:
Creepy Kernels
Witches Brew
Freaky Floral Jack
WEEK 2 RECIPES:
Chilling Cheesecake
Cupcake Bites
WEEK 3 RECIPES:

Spider Lantern
Practically Magic Potion
Here are some of the images that are associated with the PUMPKIN HUT:
Need help or suggestions?