Build the Farmville 2 Refresh Bar and help Barbara create cool stuff to ease the hotness of summer. Craft 3 unique recipes that are all associated with summer and earn points and exchange it for cool rewards. You can build the Refresh Bar in your farm with parts that you can get from your friends. The Refresh Bar is available on June 27th.
Place the REFRESH BAR in your farm.
Here's a look at the materials we need to collect to build the REFRESH BAR.
Collect the following materials to build the REFRESH BAR:
Refresh Bar Sign
Hat Stand
Refresh Bar Canopies
Here's a look at a completed REFRESH BAR:
Three recipes will be available at the REFRESH BAR.
Summer Hat
Blueberry Surprise Mocktail
Icy Cool Towel
We will need these items in crafting the recipes above:
Vanilla Syrup
Menthol Spray
Collect "Thank You Basket" and exchange it for awesome gifts.
Thank You Basket
GIFT REWARDS:
Summer Respite Pump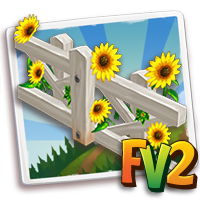 Summertime Fence
Cool Breeze Swing
Here are some of the images that are associated with the REFRESH BAR.
Need help or suggestions?