Farmville 2 Tea Cart is the newest building feature which are scheduled for released on Tuesday. You will be building this new building with the help from your friends. The goal of the Tea Cart is that you will hold an Etiquette Lesson together with your friends and visitors. The Tea Cart is scheduled for released on Tuesday (October 31st).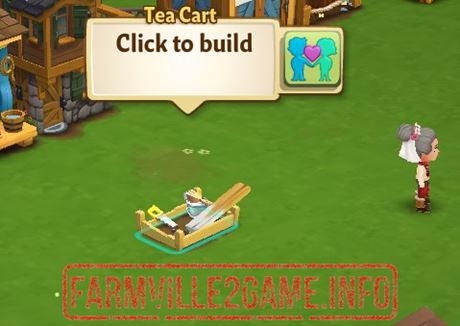 Here's a preview of the materials we need to collect in building the TEA CART.
Gather these parts for the TEA CART by asking it from your friends or neighbors:
Enamel Teapot
Tea Cart Wheel
Ornate Beams
After having enough part, you'll ask your friends to help you build the TEA CART.
Here's a look at a completed TEA CART.
Preview of the RECIPES for the TEA CART:
Tea Party Favor
Cake Server
Cake Pedestal
Floral Tissue Box
Cutlery Pocket
Table Napkin
Tabletop Vase
Tealight Holder
Etiquette Handbook
Set Of Beverage Coasters
Embroidered Placemat
REWARDS:
Peach Rose Lamp Post
Peach Rose Fence
American Southdown Sheep
Here's a look at some of the images that are associated with the TEA CART.
Need help or suggestions?