Here's a look at the FARMVILLE 2 WINTER WORKBOOTH which is coming next in Farmville 2. You will have the chance to build this new feature in your home farm with help from your friends. Get and collect materials by asking your friends, helping a friend will also give you bonus materials. The Farmville 2 Winter Workbooth will start to roll out on Tuesday (January 29th).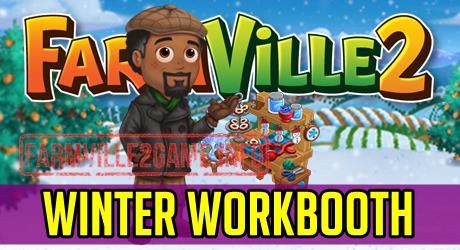 Walter will visit your farm to ask for help.
Place the Winter Workbooth in your farm.
Here's a look at the materials you will need in building the WINTER WORKBOOTH.
Collect the following materials from your  friends.
Workshop Stool
Donut Stands
Yarn Tables
Here's a look at a completed Winter Workbooth!
Check out the recipes for the WINTER WORKBOOTH.
Snowman Macarons
Knitted Earrings
Crochet Vases
Plush Snowball Bucket
Snowman Centerpiece
Painted Snowballs
Miniature Snow Castle
Ice Ornament
Ice Carving Toolbox
Some of the ingredients for the WINTER WORKBOOTH RECIPES.
Festive Snowman Hat
Macaron Stand
Rainbow Watercolor
Sonwflake Sprinkles
Winter Wildflowers
Green Spray Paint
Check out the REWARDS for the WINTER WORKSHOP:
Winter Wish Fountain
Winter Windmill House
Czech Frosty Rabbit
Here's a look at some of the images that are associated with WINTER WORKSHOPS.
Need help or suggestions?